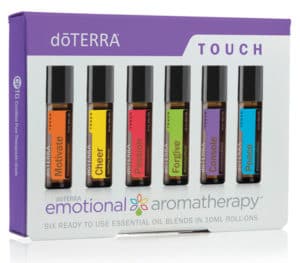 In this Guide:
The Best doTERRA Essential Oils Kit Reviews
What is an Essential Oil?
Essential oils are naturally occurring, volatile aromatic compounds that are found in the leaves, flowers, bark, roots, seeds and other parts of plants. They are used in aroma oil diffusers, skin care, health related treatments and more.
Why buy an doTERRA Essential Oils Kit?
These essential oil kits are designed to take the guesswork out of what essential oil to use, and when to use them. Here is our guide to the best doTERRA Essential Oils Kit for 2019. With amazing scents and the highest quality ingredients, you'll be hard press to find any better essential oils than doTERRA.
You'll find our full reviews of all these great doTERRA Essential Oils Kits below.
First, here's a look at our favorite doTERRA Essential Oils Kit –
No products found.
Best doTERRA Essential Oils Kit Reviews
The doTERRA Emotional Aromatherapy System is for anyone working through the ups and downs of life. Six proprietary essential oil blends make up this beloved kit. Let's see why shall we?
The doTERRA Emotional Aromatherapy System includes:
doTERRA Cheer Blend
doTERRA Console Blend
doTERRA Forgive Blend
doTERRA Motivate Blend
doTERRA Passion Blend
doTERRA Peace Blend
These blends are formulated from aromatic plant families and grouped together for you to use easily. They are designed specifically to promote healthy emotional responses, with the added bonus of smelling wonderful. The most raved about blends in this kit are highlighted below:
The doTERRA Cheer Blend mixes essential oils like Cinnamon Bark and Star Anise with Wild Orange and Lemon to create an invigorating mixture that provides uplifting happy feelings. The chemical profile is rich in monoterpene and aldehydes which are known for providing potent energizing feelings.
The doTERRA Motivate Blend is a delicate mix of mint and citrus. Tender clementine is infused with bold peppermint and the introduction of Yuzu. Yuzu is an essential oil expressed from the peel of a Japanese citrus family fruit.
This combination brings feelings of confidence and courage while replacing negative emotions like guilt and pessimism.
Why does the Motivate blend work so well?
Let me tell you!
"According to doTERRA "the chemical profile is high in monoterpenes and monoterpene alcohols, which are known for their uplifting and toning properties" There is science behind these fragrances, rest assured.
Pros:
A great introduction to pre-made blends
Specifically blended for emotions and wellbeing
This kit is packed with rare oils not normally seen in other kits
Cons:
This is a popular kit and they often sell out, rest assured they do fill back orders quickly
Favorites will be empty before the rest of the kit
5mL bottle size
The doTerra Aromatherapy Touch Kit of 6 essential oil blends is nearly the same as the doTERRA Emotional Aromatherapy System but it has the 10 mL Touch Roll-On bottles for convenient and easy skin application.
Blends in this set include:
doTERRA Cheer Touch
doTERRA Console Touch
doTERRA Forgive Touch
doTERRA Motivate Touch
doTERRA Passion Touch
doTERRA Peace Touch
Pros:
Great introduction to pre-made blends with 10mL Roll-On bottles
This is the most economical way to buy the Emotional essential oil blends
The Aromatherapy Touch kit is packed with rare hard to find oils
Cons:
This product can sell out quickly because of the overall value of the included oils
The roll on applicators can get dirty so be sure to keep them clean
The doTerra Spa Kit promotes whole body relaxation, calms the mind while soothing the senses with these 4 unique proprietary essential oil blends.
This kit includes 5 mL bottles of:
doTERRA Balance Blend
doTERRA Serenity Blend
Citrus Bliss Blend
Deep Blue Blend
The most loved blend in the Spa Kit is the doTERRA Deep Blue! Wintergreen, Camphor, Peppermint, Ylang Ylang, Helichrysum, Blue Tansy, Blue Chamomile, and Osmanthus are perfectly blended together which results in a nice soothing cool effect to the skin.
The doTERRA Serenity Blend is reminiscent of being pampered at your favorite spa. It calms the mind with scents of Lavender Flower, Cedarwood, Ho Wood Leaf, and Ylang Ylang Flowers.
Use these blends topically or enjoy them in your favorite aroma diffuser.
Pros:
Great combination that promotes relaxation and feelings of being pampered
This kit is really good for using with a fractionated coconut carrier oil to massage the oils into the skin
Helps to relieve sore muscles or cramps
Cons:
This product is very popular and sometimes is hard to find in stock
Many of the blends in this kit have similar smells and Lavender is used a lot, so if you have an aversion to it beware.
No products found.
Here we have the doTERRA Family Physician Kit. It is a fabulous collection of ten 5 mL bottles of essential oils, including six single oils and four proprietary essential oil blends.
Our favorite is doTERRA Breathe, which is a respiratory blend that maintains feelings of clear airways and easy breathing. The ingredient list includes Laurel Leaf, Eucalyptus Leaf, Peppermint Plant, Melaleuca Leaf, Lemon Peel, Cardamom Seed, Ravintsara Leaf and Ravensara Leaf essential oils.
Breathe can be applied topically to the chest, back, or bottom of the feet, or diffused in your bedroom while you sleep to promote better breathing and deep relaxing sleep.
Empower yourself as the families' natural caretaker with doTERRA Essential Oils Kits. Single oils include Lavender, Lemon, Peppermint, Melaleuca, Oregano, and Frankincense. Proprietary oil blends includeDeep Blue, Breathe, Digestzen, and On Guard.
Pros:
Great combination of the most popular single and proprietary oil blends
Helpful guidance is included with the kit to assist you
Great value for the wide variety of essential oils
Cons:
The 5mL bottles run out quickly, especially during cold season
The Oregano oil has a very strong aroma, be careful with this one
No products found.
The doTERRA AromaTouch Technique kit is a detailed yet easy to use step-by-step method of applying therapeutic grade essential oils directly to your skin to produce a profound overall wellness experience.
Developed by Dr. David Hill who is an expert in integrative medicine and therapeutic applications of essential oils. It is formulated to promote well-being by reducing physical and emotional stressors in your environment.
The AromaTouch Technique kit includes 5 ml bottles of these 8 CPTG (Certified Pure Therapeutic Grade) oils:
The AromaTouch Massage Blend includes:
Balance Blend
Deep Blue Blend
On Guard Blend
Lavender
Melaleuca
Peppermint
Wild Orange
Pros:
The kit also comes with a 4oz bottle of Fractionated Coconut Carrier Oil
Detailed training DVD and overview booklet included
Cons:
These 8 CPTG Certified Pure Therapeutic Grade oils can become a little routine, consider another kit with more oils if you want to get even more creative
doTERRA Athlete's Kit

5mL bottle of Breathe, On Guard, Lavender, Melaleuca, and Peppermint
120 mL Deep Blue Rub
Sports enthusiasts love doTERRA Athlete's Kit because it was designed with athletes in mind, especially with its 120L tube of Deep Blue Rub that provides a unique sensation of cooling and warmth to tired and sore muscles.
doTERRA Deep Blue Rub is a rich, topical cream infused with CPTG Certified Pure Therapeutic Grade essential oils that distinctly smell of Wintergreen and camphor but with a nice twist.
Kit includes 5mL bottles of doTERRA Breathe, doTERRA On Guard, Lavender, Melaleuca, Peppermint and the famous 120 mL tube of Deep Blue Rub that everyone can't stop raving about.
Pros:
Comes with a compact, reusable zippered pouch
Great for sore achy muscles or cramps
Cons:
The Deep Blue Rub can cause sensitivity for some people. If your skin is sensitive be sure and apply to a small area at first.
The doTERRA Essential Oil Starter Kit is a great value and one to not overlook if you are just getting started. It includes a set of 10 individual bottles of both single oils and blends, but more importantly, it comes with the top rated doTERRA Petal diffuser. This makes it easy to quickly get started diffusing these oils into any room in your home.
It is sure to hit a home run with the 5 Single Oils of Lavender, Peppermint, Lemon, Melaleuca, Oregano, Frankincense and the following 4 amazing blends of Deep Blue, Breathe, DigestZen, and On Guard.
You'll also get the Wellness Advocate Introductory Packet, which includes an introductory DVD, a getting started training DVD, doTERRA essential skincare product brochure, product guide, essential oil usage chart, and much more.
Pros:
This kit gives you everything you need to get started
A lot of support and helpful materials are included
The large 15 mL bottles provide you with a lot of oils and fragrances to explore
Cons:
The kit comes with the 5mL bottle of Deep Blue and for the price some people wish it could be one of the larger sizes
doTERRA Wooden Essential Oil Box
Need something to store all your new essential oils and scents in?
Then this Wooden Essential Oil Box is for you!
This doTERRA Wooden Essential Oil Box is specifically made to hold your scented oils and makes a wonderful add-on to any of the kits above. With dimensions of 7x3x7 inches, this wooden essential oil box provides great protection to your new collection of scented oils. The oil bottles fit nice and snug, keeping them organized and safe.
Be sure and add it to you order and complete your kit.
Pros:
Holds 25 essential oils bottles nice and neatly
Custom made just for doTERRA essential oils
Cons:
Inspect the hinges carefully on the box to make sure they are properly attached
Conclusion
The quality and variety of doTERRA Essential Oils kits available today will delight and enlighten your senses. The wonderful aromas, cleaner air quality and therapeutic benefits of doTERRA essential oil kits are a wonderful addition to your home.
So what is the best doTerra Essential Oils Kit and which should you buy?
While each kit has its unique offerings for different needs. Without a doubt, the most popular one that can't stay in stock for long is the The doTERRA Family Physician Kit
Looking for an essential oil diffuser to use with your oils? Check out our article about The Best doTerra Essential Oil Diffuser.  Enjoy!